Transferring funds between your accounts
Your banking relationship is direct between you and Macquarie, and as such Marketech don't have any involvement. As such, all cash transfers can be done by you through your Macquarie online portal.

Whilst funds can usually be transferred between accounts relatively quickly, they will not reflect in your Marketech portfolio until the following day.
The Marketech Focus platform relies on the cash balances updated from Macquarie at around 3am each morning. Therefore, funds deposited after this time will not be available in the platform until the next business day.
When moving cash around, ensure that you have enough money in your account for any settlements due. Late settlement fees may be charged by Openmarkets as per their Financial Services Guide.

To assist in managing your cash, we display the Available to withdraw balance (per below). The Available to withdraw balance is the free cash available to withdraw from your linked bank account. This is calculated as the
lowest
point your cash balance will reach when factoring in pending day-to-day settlements.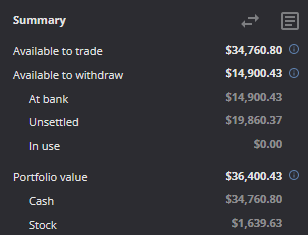 Related Articles

How can I access Macquarie online banking?

To access Macquarie Online Banking: Go to online.macquarie.com.au/personal/ select Log in Select Macquarie Online If this is your first log in to Macquarie Online, select "New to Macquarie?"; enter the Macquarie ID provided in your welcome email and ...

What is CHESS? What is a HIN?

CHESS (Clearing House Electronic Sub-Register System) is the computer system used by the Australian Securities Exchange (ASX), Chi-X Australia (CXA) and National Stock Exchange (NSX) to record shareholdings and manage the settlement of share ...

Are there fees when transferring my holdings to Marketech from another broker?

Marketech do not charge for HIN transfers or uploading stock from an SRN. Off-Market Transfers do attract a fee of $27.50 per holding. This fee is charged to you directly by OpenMarkets, on your authority they will debit the fee directly from your ...

How do I transfer my HIN or Stock from another broker?

When you complete an online application, you can choose to transfer your HIN from another broker or establish a new HIN with Marketech. Please note that the transfer time varies based on how responsive your current broker is. **For active traders who ...

Where can I find my registration details (including my HIN)?

Your HIN and other account details can be found as per below: In the portfolio tab, next to your account name, click the A pop up will appear of your accounts. Click the then 'view account details' Your HIN is available under 'Trading Account.'