Steps in the order:

1) Nominate the trigger price – either 'last price', 'bid' or 'offer'.

The last price is the last transaction price, the bid is what someone is willing to buy it at, while the offer is the price at which the seller is offering to sell.

2) Define the order you wish to place buy or sell in units and price.

3) Then, once the condition is met that order is automatically placed into the market.

4) Orders are reviewed by Openmarkets once triggered and sent, but not before.

Here are a few examples of where Stop Orders may be useful.

Stop loss

You expect the price of the stock to rise and wish to minimize your losses on a shareholding in the event that the price falls by triggering a sell order.

Example:

Step 1 - You nominate 'last price' $24.50 as the trigger to create a sell order, so if it trades at $24.50 on the ASX a 'sell order' will be placed.

Step 2 – You nominate $24.25 as the price you would sell down to.

Step 3 - You nominate the number of units to sell at $24.25 once the stock touches $24.50.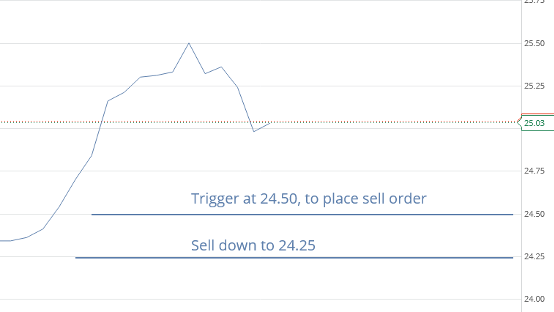 Your sell price can be above or below your trigger, meaning that if the stock trades at $24.50, you could choose to put the sell in at $25.00 in the hope there is a bounce.

You think the stock is overvalued but don't want to put in an 'order to buy' just yet.
You wait for the price to fall so that you can buy the stock at a lower price (buy the dip), expecting that it will go up again.
Step 1 - You nominate a trigger price at or near your buy zone.

Step 2 - Then nominate buy order. (You can nominate a price higher or lower than your trigger.)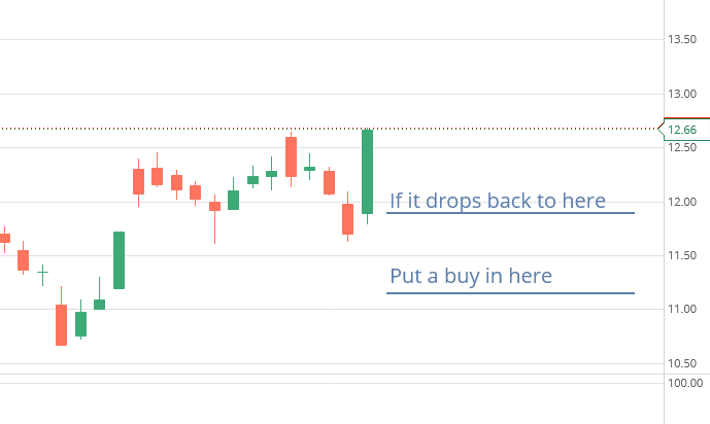 Place order a long way from market price

There are restrictions about placing an order in the market if that order is a long way from the last traded price.

For example, if a stock is trading at 2.5c, you cannot put a sell order in at $8.4c.

Use the trigger to nominate a price closer to your buy/sell price. In this case, you could put a trigger in at 7.2c to then place a sell order at 8.4c (once the price gets to 7.2c).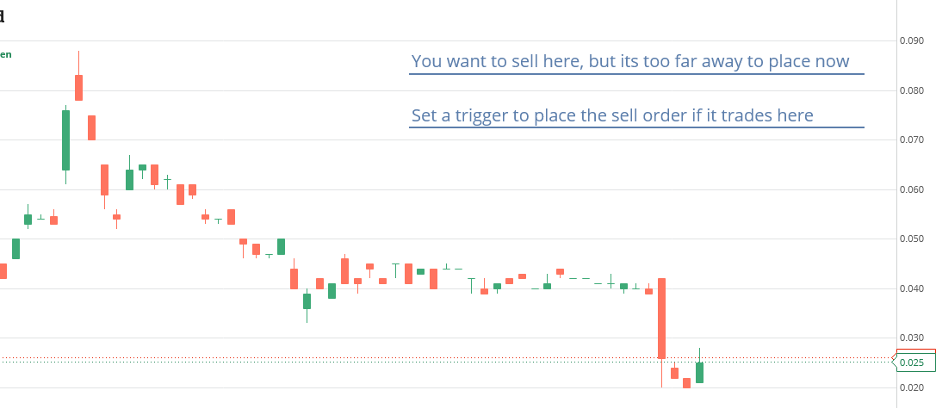 Buy the break

You can use this to buy a stock above the current price - once it goes above a certain price.

For example, if you wish to see a bit of upwards momentum before entering a trade, you could nominate a trigger price and then place an order to buy it (up to) a price.

The stock is trending sideways from 50c to 53c. You feel that if it cracks through 56c that it may start to move upwards again. You place your trigger at 56c and your buy at up to 58c.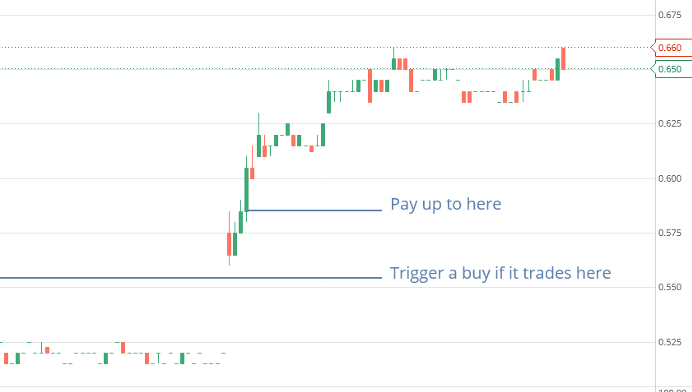 Available cash/stock
When you place a stop order, the order is not sent to Openmarkets until the trigger is met. You will need to ensure cash is available at the point of the order being triggered, or it will not be accepted. Funds are not 'held' until the order is placed.

Equally, if you have sold the stock already your sell order will fail.

ASX trading rules and review

All orders are reviewed by Openmarkets before being placed in the market, usually this is done electronically, then in some cases by a Designated Trading Representative.

Your order will not be reviewed until placed, which is after the trigger condition is met, so your order may be rejected at that time.

Stop orders can be purged, cancelled or rejected at any time by Marketech, Openmarkets or the ASX themselves. You should review them on a regular basis to ensure they are still active.

Technical Issues

There is no way to guarantee the stability of the various software providers between you and the stock market. There is also no guarantee that the internet or the stockmarket itself will be operating correctly at the time you place an order, or at the time a trigger event occurs.

We operate our technology on a 'best endeavours' basis, and work through any technical issues that may cause a problem for your trading as quickly as we can. However we cannot provide any guarantee that an order will be triggered nor can we can cover your losses due to technological outages or failures. You will need to regularly review all of your orders to ensure they are operating in the way that you expected.

The 'gap-down'

Stocks may not necessarily trade at every price, and the price that you wish to 'sell down to' or 'buy up to' may be skipped over leaving you in the queue.

For example: the US markets are down heavily overnight, then the ASX follows suit. You have a trigger at $5.75, and a sell down to $5.70, but the stock reopens at $5.65 which is below your 'sell down to' price. Your sell order will still be in the queue in the market at $5.70c.

This can happen for any number of reasons, including after a trading halt, or when a stock is falling very quickly.